Watch the videos, read the eBook, then initiate a conversation. If you follow what we offer in these videos, it just plain works!
The Parent's Guide is a comprehensive strategy to initiate the pornography prevention conversation with your kids. Tried and tested, these videos protect your children from exposure to this material and the hurt it can cause.
Never in the history of humankind has this amount of pornography been so available to everybody at any age. In order to tackle this problem, we as grown-ups, parents, and caregivers must step up and communicate openly about this topic, without fear shame or blame. The Parent's Guide shows you exactly how to do that.
Priced at $19.95
BUY NOW
You might think that this can wait until next week, or the next birthday or the next school year; it can't.
Prevention is the goal, and the sooner you address this subject the better.
What Do I Get?Why Do I Buy This?
---
I love what I do for a living because we're making a difference.
When I meet with parents and their young people and we truly connect and communicate it is a wonderful event. Parents are apprehensive about this topic and so are their young people. Bridging that gap is truly an honor in every family setting, and every family is different. The grown-ups feel a load off their shoulders and so do young people. When we remove blame and shame from the conversation, we are placed in a position of true communication and education. It's great! My team and I have created The Parent's Guide to mirror these conversations and allow you to initiate this talk within your own family.
Online pornography is a real challenge for our young people.
We have allowed fear and shame to dominate our young people's entrance into a very important part of their individual personalities. This content negatively affects their brains like a stimulant (drugs) and can alter their perception of other human beings. While we know it can be scary and uncomfortable, we owe it to our young people to be brave about this topic. It isn't going away, and because of that, we have got to step up, (stand up / jump in / push back) and talk about it. We offer you everything you need to have that first (and scariest) conversation. We got your back.
"Coach John"
The Third Talk™ Founder, SME BA
A movement without an alternative agenda.
I began my efforts in 2002. The Third Talk™ is information for parents and their young people about growing up in a pornography-soaked internet environment and how to manage that successfully within their own family's principles and values; and nothing else. There are no ideological beliefs incorporated, and this is not "sex-ed".
We are a prevention-based education platform, focused solely on the communication necessary to reduce the damaging effect of this content on youth.
We recognize that every parent faces this issue, every family is different, and that communication is the only true solution to this challenge.
We understand people may not be familiar with this subject, but this content affects every young person in middle school and high school, regardless of their grade, race, religion, gender, socio-economic position, or romantic interest. It affects them socially and emotionally, even if they aren't the ones to view it. 
It has to be socially acceptable to speak with our young people about explicit adult material.

When we get that point across

nationally...


WE WIN. And our kids win

.
Let's all win together.
What the
experts


are

saying

about
The Third Talk™...
"John is addressing a difficult and prolific problem in our State and around the country. I know him to be thoughtful, careful, professional and even funny. His lectures at our trainings routinely receive the highest marks from the participating Administrators, counselors and teachers, and we look forward to his upcoming teachings... He has opened my eyes to a challenge in our State for young people that I was not fully aware of, and solving it with grace and care. I recommend John's approach to online pornography-prevention for all our young people."
Karen Fairly
Executive Director
North Carolina Center for Safer Schools
---
"I have worked in law enforcement for over 24 years and have seen all kinds of bravery. Standing up in a room full of people to address a topic that has been mostly ignored is brave, especially a topic as provocative as online viewing of pornography by young people. John is brave. John has put his name and reputation on the line publicly, to assist our parents and their children defend against a huge and mostly silent challenge for our children; namely the volume of pornography kids see at very early ages."
Major Robert Ramirez
Investigations Commander
Fayetteville Police Department
---
"The Third Talk has a message that parents need to hear.
If someone had told me that having a conference room sized discussion about children being exposed to online pornography could be light and easy, I would have thought they were joking. John's ability to deliver clear and concise information about the hazards of online pornography exposure to children is wonderful. He is well read and confident, without an ounce of apology or shame. He just makes it easy to discuss this otherwise tricky and difficult topic.

"
Mari Pokornowski
Executive Director
North Carolina State PTA
---
"On behalf of the Alliance Police Department, our school and community, I would like to thank John Van Arnam and The Third Talk for the information and awareness presentation he provided at our high school. John spoke about a very prevalent internet danger, and while we are all aware of its existence, he was able to bring the prevention of explicit internet material into focus in a way that we had not fully appreciated previously. I would recommend his services to other members of law enforcement, schools, and to communities in general."
Chief Philip Lukens,
Alliance Police Department
---
"I support John Van Arnam and his program called The Third Talk™. It is a smart and compelling approach to address a challenge that affects all middle schoolers and high schoolers. Online pornography is more prevalent than most people understand, and exposure can have lasting negative effects on the mind and behavior of students, especially boys. I have known John for many years, I have worked with him on other projects, and I recommend his services highly. I encourage John's approach."
Kelly Johnson, PhD
Clinical Sexologist & Sex Educator
---
"

My cousin tried to show me pornography on his computer

while our parents weren't around, and I knew I wasn't supposed to see that. I was
embarrassed

to talk to my Mom, so I didn't say anything. Mr. Van Arnam came to my school and said

it's okay to talk about it

with my Mom and Dad. I finally was able to say something without them getting mad at me."
This is a

story

from a

12 year-old girl

.
I hear them all of the time at events. Believe it or not these experiences are surprisingly common.
The reality is underage American children view over 460 pornographic videos every second of every day; 14.5 billion annually, and represent one of the largest viewing demographics in the world.

As adults and parents, we can and MUST do better to curb exposure. Talking about it is the solution, and no one else but you is going to do that. We are here to help.
I
know

that we can do this.
We CAN raise the next generation of kids to be "porn-proof."
Together, we CAN teach communication, respect, and mutual care.
...but we'll need to build a movement to make this work.


One family at a time.
I'd love for you to be by my side.
Are you in?
What Do I Get?


If you

watch

and then

follow

what we offer in these videos,


it just plain works!
You will receive a 7-part video series, in it, the actual words to use to start the conversation and strategies to keep the conversation going. We'll provide you the "What to say and how to say it." We suggest that you watch the videos a few times through before you initiate the conversation with your young person; this way you'll have a base of information to draw from and answer questions your young people will have.
In The Parent's Guide you'll receive a downloadable e-book that provides parents key information to initiate the pornography-prevention conversation within your own family. This book is a transcript to best organize our information and provide parents a quick reference to answer the first several questions your young person will have.
You will also receive a Parent / Young Person Agreement Template in order to formally agree to certain specifics that you've discussed and solidify the information you have all learned together. Young people agree not to view this content. Grown-ups agree not to shame or blame their young people and to provide them a safe place to ask questions and discuss their experience when they reach out to their parents.
Problem: We are not speaking to our young people about explicit adult material online. We have tried restrictions, filters, regulations and laws,

we have tried to shake our fist at the problem or just hope that "someone" else would fix it

. Here you can change this culture for your young person. Here you can take the first thoughtful step:

communication

.
Impact: This content can cause

depression, aggression, and loneliness.

It conditions our young people away from human connection and true intimacy throughout their adolescence and into adulthood. It can lead to

intimate partner violence and assault

. It releases a mix of chemicals in the brain that acts like a stimulant (drug) and creates the need for more content, and content that is more "hardcore." It can cause body shaming issues in both young men and women. It can create neural pathways in the brain that cause young people to seek out more content through the release of dopamine, adrenaline and testosterone.

Explicit adult material takes all the wonder out of human interactions, by fast-forwarding our young people through what should be a natural, normal, GRADUAL, exploration process

.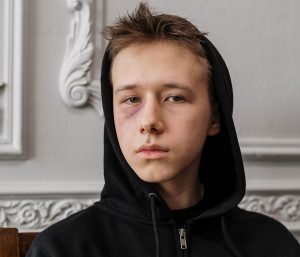 Solution: We talk about it. The answer is to bring this topic out into the light and discuss it in our families, in our school, in our church, youth group, our neighborhoods, sports teams and with our friends.

Communities together can stop this challenge and we at The Third Talk™ are here to help

.
Why is this not free?
---
We are a determined little non-profit, tackling a very large problem no one wants to discuss.

There are just a few of us. While we seek out volunteers, donations, mom groups, dad groups and government grants, our costs to provide this information to you are not insignificant. We have larger plans and goals for the organization like

being able to provide this information free of charge to all underserved communities across the country.

This is a movement for the betterment of all of our young kids and by proxy our country and our future as a whole. That cannot happen without a little bit of money.
The first donation I ever received was given because the donor's 14-year-old spent 2 years of therapy for his porn use and it cost the family over $28,000 and counting.

We think a $19.95 "ounce of prevention" versus the potential "pounds of cure" is a long term healthy choice, it's cost effective, and a sound financial decision by the parents.
The emotional hurt that this content can cause is a silent killer of empathy, compassion and human interaction. It can destroy a young person's ability to connect with other humans at a time when their brains are actively seeking out this interaction.

You spent $40 on a bike helmet. You would spend whatever the doctor told you to make your child well, if they were sick. How much does it cost to buy sneakers? The Third Talk™ is just a different type of protective gear. This "gear" protects your young person's personal, emotional and human relationship health.

It protects their future happiness.

Imagine catching your young person watching this content. I have spoken with hundreds of parents who have. Without exception each one of them would have

enthusiastically paid $19.95 to have gotten out in front of that event, and had a preemptive pornography prevention conversation to avoid the exposure.